Tableware – dishes used to serve a table and in which hot dishes are served. The history of the appearance and reincarnation of tableware was developed over the centuries, as it is inextricably linked with the culture of eating.
The roots of the art of table setting can probably be found in the times of the Italian Renaissance, when merchants arranged sumptuous feasts. When Catherine de' Medici married the French king Henry II, she took these Italian dinner traditions with her to France. But it was only under Louis XIV, that is, in the second half of the 17th century, that the first rules for setting the table and holding formal dinners were established in France. But this was the impetus for the development of the production of tableware, and by the middle of the 18th century, no one was surprised by the large number of factories producing porcelain and glassware.
This fashion was picked up by England, which in the Victorian era (1837-1901) was destined to become a legislator and a staunch supporter of table setting traditions. The types of tableware have reached their peak – from chocolate forks to 8 types of salad forks. So it is not surprising that it is at this time that the highest level of tableware production in history is noted.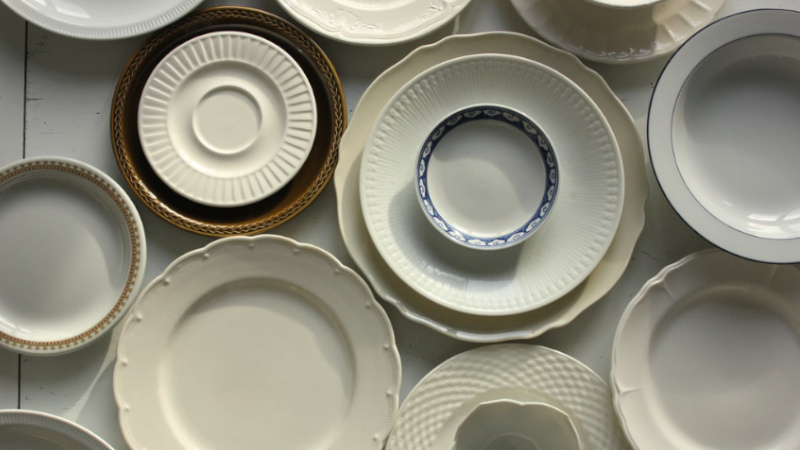 The current time dictates its conditions, the modern pace of life does not allow us to devote as much time to eating as during the reign of Victoria. Setting the table has become easier, and as a result, the number of tableware has also decreased. In ordinary life, we get by with a small set consisting of two or three plates, UBMBFOILB, a cup, a fork, a pair of spoons and a knife.
And yet sometimes, when we celebrate an event at home, we want to set the table in a real, beautiful and luxurious way, like in the good old days, when delicious dishes laid out on an elegantly served table were an indicator of culture and inspired guests and hosts to high conversations . Setting the table is a whole art, which we will definitely talk about in another article, but in the meantime, let's return to our topic and see what types of tableware are used now.
Tableware is mainly made of porcelain and earthenware. Utensils, in which dishes are not only served, but also baked, are often made of stainless steel and cupronickel. Spice devices and small special dishes are also often made of metal (for example, a cupronickel or silver spoon with a crystal insert). Ceramic dishes are more appropriate if you serve appropriate dishes of national cuisine.
A separate topic for conversation is such types of tableware as
A young housewife will be surprised when she learns how many different dishes there are in the world. It is classified according to various features: purpose, material, shape, size, color, style, complexion, and so on. This article will describe the types of dishes and how to use them. These nuances may not seem important to every housewife, but it will not hurt to have such information.
Different kitchen processes will require completely different utensils. The material in this matter plays not the last role, because, for example, ceramic accessories are most often used for serving, but not for cooking.
WHAT ARE TABLEWARE?
Dishes – a device used for storing, receiving and preparing food. It is divided into three categories: for serving the table, for processing and vessels for long-term preservation of food.
The types of dishes now have a variety, and the history of these devices began with the manufacture of clay plates, cups, and so on. A little later appeared copper, cast iron and so on. Over time, the classification increased.

TYPES OF DISHES
Due to the existence of a large number of nations, various cuisines have become widespread. In each of them, native recipes, originality, respectively, and the specifics of using accessories have been preserved. Due to this, the types of dishes replenished very quickly.
General classification:
kitchen;
dining room;
utensils for storing food.
All these types are conditionally divided into subgroups, depending on the material used in the manufacture.
COOKWARE
Kitchenware has become widespread. It is made mainly of aluminum, ceramics, and glass. Types of kitchen utensils: teapots.
Enameled appliances are widespread. This is due to the fact that they are convenient to use and are inexpensive. Customers prefer Teflon, stainless pans. Aluminum kettles have long gone into the background. Metal still remains popular in many countries of the world, especially where tea ceremonies are revered.
UTENSILS FOR STORAGE OF PRODUCTS
The assortment of containers for storing products is quite large, so everyone will choose the right option for themselves. It is divided into several types according to the material from which it is made. Let's consider them.
glass Cons are logical – heavy weight and excessive fragility. Among the advantages, it is necessary to note environmental friendliness and safety.
Ceramic. The advantages and disadvantages of such dishes are similar to those characteristic of glass.
Metal. The most reliable and durable option will be stainless steel, therefore, of course, it should be preferred.
Wooden. Wet food products can be stored in such a container in view of the rapid reproduction of harmful microbes, and dry ones (for example, cereals) can and should be (because such containers "breathe", and therefore moths and midges will not start in them).
TABLEWARE
Tableware is wear-resistant, durable, safe. In order for it to last for a long time, it is necessary not only to choose it correctly, but also to take care of it carefully. The material from which the tableware is made directly affects the duration of the service life.
There are many such devices. There are not many types of tableware (there are only three of them). But it should be noted that there are 10-30 options in each category. An example can be plates, because they are divided into 18 completely different types. In addition to them, this classification includes special devices and cups.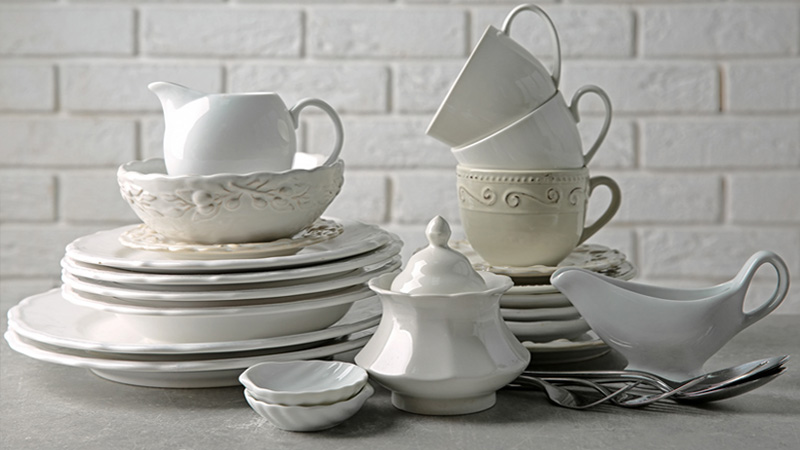 COPPER AND BRASS TABLEWARE
Today, copper and brass dishes have already lost their former popularity, but they are still on sale. The main advantages are good thermal conductivity, stunning appearance. Copper dishes are best stored in places where humidity is at a minimum. With prolonged contact with water, such devices darken a little. Nowadays, manufacturers rarely make really copper devices. Most often, only cladding is done with this material.
STAINLESS STEEL UTENSILS
As a rule, stainless steel cookware is much more expensive than aluminum or copper counterparts. Why? The answer is simple. Such dishes (the purpose, types are described below) will allow you to cook without oil and water, and all food residues are washed away from it without any effort.
Classification of stainless appliances:
pans;
teapots;
pans;
lids.
Plates and cups are not made of steel. Thanks to the material used, the maximum amount of nutrients is preserved during cooking. The advantages of this dish are obvious, but what are the disadvantages? You can allocate a high price, when pots and pans are overheated, they deteriorate, and it is very difficult to wash off the plaque, they do not like a sharp temperature drop.